Online PD for Schools
With the transition to remote teaching or hybrid learning, PD is more important than ever. How can a flexible school continue to provide quality PD for their teachers during a pandemic?
There are many different options worth exploring:
My school can provide in-person PD with social distancing. How can we maximize effectiveness?
Our district is only providing virtual PD. Where can we find relevant, quality online continuing ed?
Teachers need technology and blended learning PD. What are cost-effective PD options?
With ConnectedPD®, schools gain access to a course catalog of 100% online, self-study PD. Teachers can choose staff development classes aligned with their professional goals and take them at their convenience.
I was pleased with the wide range of classes available and convenient access.
Jane D.
The classes are informative and are helping me to keep my license active. I am able to take them when its good for me and that is what every full time working person/parent looks for.
Geana L.
The courses we have purchased have aligned well with professional development initiatives in the district. Teachers find that the content relates well to district initiatives and leads to deeper understanding of new skills and techniques that we work to develop in the district. When our teachers finish a course, I can say with confidence that the content enhances their professional work and helps them improve their effectiveness with students.
Peter G. District Director of Teaching and Learning
I've enjoyed all the courses I've taken with Professional Learning Board. The information is usable and current. I will be implementing many of the ideas and strategies in the classroom. Thank you for such an easy to use platform.
Suzanne B.
It was a very good experience. I especially liked that I could work at my own pace….in this very busy life of working full time, being a single mom of 3 it is vital for teachers to have this kind of opportunity for educational growth.
Holly D.
Thank you for offering relevant content to ongoing professional development, resources and for the flexibility to learn anywhere!
Michelle J.
I think these classes are fabulous. I love working at my own pace and being able to take notes effortlessly with a due computer set up.
Leslie G.
Provide Online Professional Support
Assessments should always be focused on paving the way for improvement. With ConnectedPD®, you can choose from a range of PD topics for your teachers. Does your Mathematics teacher struggle with a virtual classroom? Simply assign a How to Teach Online PD course and track their success online, anytime.
Flip PD
In-person PD may not be an option for many schools. Even if teachers can meet face-to-face, social distancing and masks may create limitations for quality continuing ed.
Let's flip our perspective on PD. Instead of bringing in a consultant and disrupting class time, assign a self-paced online PD course teachers can take at their convenience. Once everyone is up to speed on the topic, gather your staff together (either virtually or in-person) and share ideas on implementing what they've learned.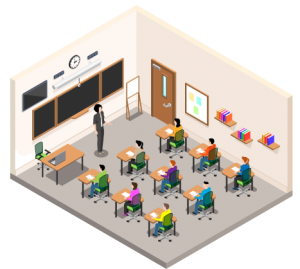 Keep Teachers Teaching
Teachers are juggling a lot right now. With ConnectedPD®, teachers take online courses at their convenience, without having to miss class time. Teachers stay focused on teaching  and students stay engaged. 

BONUS: PD Tracker™
Make sure teachers feel trusted and respected while ensuring their professional growth. With ConnectedPD®, your teachers can track all  their professional learning, whether it's online or at school, and you can track their progress ― all without visiting a classroom or sending an email!
*Minimum subscription of 10 teachers or $1,000/year if less than 10 teachers.